Cybertip.ca receives increase in reports of children exposed to sexual violence on Omegle
The Canadian Centre for Child Protection (C3P) wants to make parents aware of an increased number of reports about Omegle, a website that enables randomized video and text chats between users.
Omegle's tagline is self-explanatory; people visit the site to "Talk to Strangers."
Two check boxes are all that stands between youth and a stream of chat rooms filled with strangers who can seemingly do whatever they want. One check box signals that the user is 18 or older, while the second box acknowledges the user has reviewed and agreed to Omegle's Terms of Service, Privacy Policy, and Community Guidelines. Neither of these check boxes prevent someone under 18 years old from entering the website and are quick to execute.
The site randomly pairs anonymous users in one-on-one chat rooms without asking for any identifying information. Users can enter into text chats, or video chats that combine video and chat functions.
On average over the past year ending June 2023, Cybertip.ca - Canada's tipline for reporting the online sexual exploitation of children has received a report about Omegle every two days1. Compared to 2021-222, reports have risen by 122%; compared to 2018-193, reports have increased by 397%.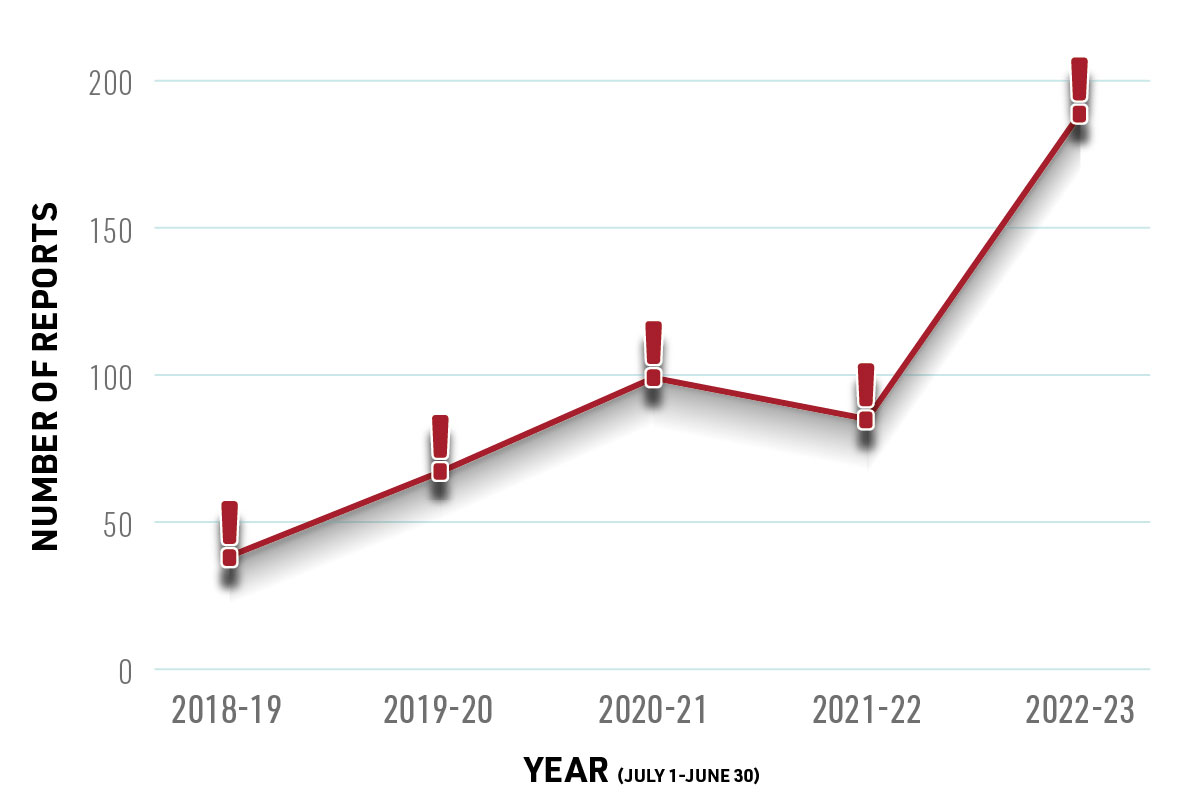 Of the 180+ reports, 120+ involved concerns about someone communicating with a child for a sexual purpose through Omegle. The remaining reports were about users allegedly sharing child sexual abuse material through the platform.
Several reports to Cybertip.ca explained that Omegle users requested and obtained information to connect with the youth outside of Omegle, such as their social media username or their phone number. Based on these and other Cybertip.ca report information, it appears users are meeting youth on Omegle then moving the communication to a different platform.
What are the risks parents should be aware of?
Parents can help mitigate risk online. Here's how:
Block the website from devices your child accesses

Omegle is not intended for children and there are no parental control settings on Omegle that you could enable to make the site safe for youth to use. You can block the website completely. These settings will be different for each browser, but steps can be found here.

Talk to your kids about the risks they face online:

Explain that Omegle has a minimum age requirement of 18 years old, and does not have safety features intended to protect youth from seeing sexual or violent content.
Talk to your youth about the risks of video chatting, including that anyone watching can capture a screenshot or video without them knowing. For tips on getting the conversation started around chatting online, visit the risks page on ProtectKidsOnline.ca™.
Encourage your kids to talk to you about weird or uncomfortable situations they encounter online. Emphasize that it is never too late to come to you for help, even if they feel like they have made a mistake.
If you see, read, or hear anything sexual from an adult towards your child online, report it to Cybertip.ca or law enforcement.
1

Report numbers are measured between July 1, 2022 – June 30, 2023 ↩

2

July 1, 2021 – June 30, 2022 ↩

3

July 1, 2018 – June 30, 2019 ↩

4

Omegle changed their age restrictions on October 6, 2022. Prior to October 2022, Omegle stated on their landing page: "You must be 18+ or 13+ with parental permissions and supervision to use Omegle." ↩

5

Usually a website where people can live stream themselves, and may include users engaging in sexual acts. ↩

6

Sextortion involves individuals coercing youth into sending sexual images or engaging in sexual acts via a camera-enabled device. These individuals typically then blackmail the youth by threatening to distribute the sexual content if the youth does not provide more sexual content or pay money. ↩

The tips and other information provided herein is intended as general information only, not as advice. Readers should assess all information in light of their own circumstances, and any other relevant factors. Links to third party sites are provided for convenience; C3P cannot be responsible for the accuracy of information provided by third parties. All trademarks used are property of their respective owners. Information current as of July 5, 2023.